Posted by Unconventional Economist in Australian Property, Featured Article on November 14, 2012 | 48 comments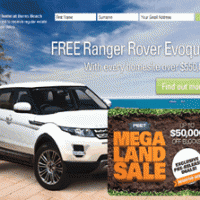 By Leith van Onselen
Last month, I wrote an article in MacroInvestor entitled Beware the house and land value trap, which examined the pitfalls of buying new house and land packages on the fringes of Australia's capital cities.
The article was particularly critical of measures adopted by Australia's property developers aimed at reinvigorating new home sales by offering generous incentives to new buyers, such as giving away new cars, offering large cash-backs, free landscaping, or paying a buyer's energy bills for three years when they buy a new house and land package (see below examples).
Read on .... http://www.macrobusiness.com.au/2012/11/the-house-and-land-value-trap/
Recommend checking this this one out ... the video ....
http://www.macrobusiness.com.au/2012/11/first-home-buyers-turning-grey/